Nissan BX
The cushioning system of the mast secures that the forklifts will descend smoothly right before reaching the floor, even if the operator keeps the control handle completely on.
A significantly high translation speed is what can be expected owing to the AC TECH control nad the powerful motor inside every BX.
It is possible to choose between three prefixed functioning modes in order to adjust the behaviour in translation and lifting responding to different needs. The economic model (E) priorizes the functioning hours, the Power mode (P) is for the normal use; and the High power mode (H) is to assure that tasks are performed within the least possible time. Besides, the operator can choose the manual mode (M) in order to personalize the functionung parameters.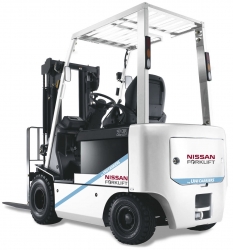 ---