Nissan UND
The AC technology of Nissan Forklift allows to have available a productive, reliable and efficient in costs fork. With this advanced technology, there are a lot of available options: horizontal positioning of forks, central position shifter, weight indicator, double depth piling.
The B.I.T.E. (Built in Test Equipment) is an integrated system of mistakes diagnosis. It allows an easy problems detection and solution, and a lesser stopping time for maintenance. The connection of any other computer is not needed.
The standard system of codified register allows the forklift access only to the authorized operators. In order to start the machine, it is necessary introducing the right code, that can also be assigned to a previously set operator´s profile.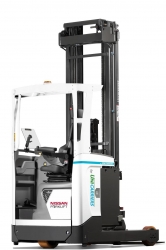 ---